Team USA - 2022 World Games Champions!
July 14th, 2022 at 7:45PM
July 15th, 2022 1:26AM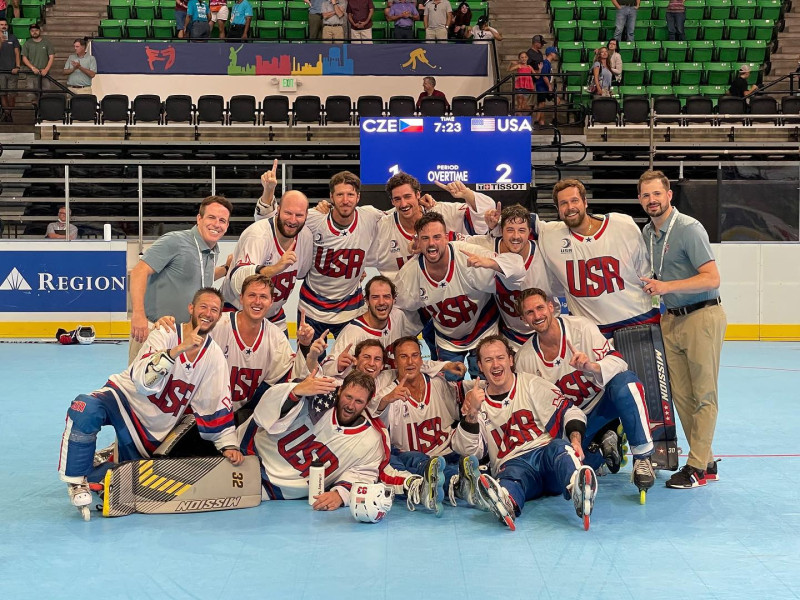 ---
Team USA defeats Czech Republic by a score of 2-1 in overtime to claim the 2022 World Games Gold Medal!
Team USA was undefeated in this year's event, defeating Canada 8-3, France 6-2, Colombia 9-1, Italy 5-0 in the semifinal, and Czech Republic 2-1 in overtime for the Gold medal.
Several Team USA players participated in the NCRHA over the last several years, with several NCRHA National Championships, scoring and goaltending titles to their names. The NCRHA would like to congratulate all of Team USA on this outstanding accomplishment!
Congratulations to Team USA!
Team USA Roster
Derrick Burnett
Jack Combs
Joey DiMartino (Farmingdale State College)
PJ DiMartino Jr. (Neumann University, Farmingdale State College)
Brandon Hawkins
PJ Kavaya
Tyler Kraft (Neumann University, Farmingdale State College)
Michael Maczynski (Neumann University)
Travis Noe (UC Santa Barbara)
Brett Olinger
Billy Pascalli
Troy Redmann
Garret Ross
Nathan Sigmund