Day 1 Recap from Kalamazoo
April 7th, 2022 at 10:01AM
April 7th, 2022 3:11PM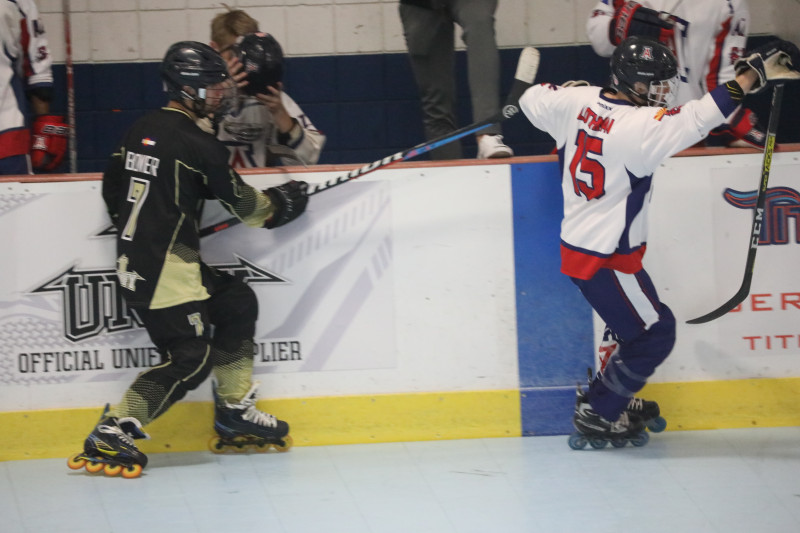 ---
5 games decided by 1 goal.
2 more decided by 2 goals.
From the drop of the puck at 7:00am on Day 1 at the 2022 National Collegiate Roller Hockey Championships, it has been a battle. Ohio State squeezed past UC Santa Barbara by a score of 2-1 in the first game of the event. The next 2 games needed extra time to decide the winner - Tampa defeating Endicott 2-1 in a shootout and Arizona defeating Colorado in overtime.
Division III teams played 1 round robin game each, while Division I and II teams played 2. All of these teams will finish up round robin play in Day 2, and then on Day 3 the Division IV and Junior College Division teams arrive, and the DI/II/III playoffs begin.
In Division I, 4 teams currently sit at 2-0, being Lindenwood, Michigan State, Arizona State and Bethel. Arizona State plays Bethel in their final round robin game, while Lindenwood faces Slippery Rock and Michigan State faces Farmingdale.
Interestingly, Robert Morris is currently 1-1, but Roman Kraemer leads all DI/DII scoring with 7 goals and 3 assists. His teammate Givoanni Palombo is 4th in scoring, with Lindenwood's Nicholas DellaMorte in 2nd and Slippery Rock's Ian Edwards in 3rd. Goaltending so far, as no surprise, have Lindenwood's duo of Jacob Robinson and Paul Town in the top 3 in GAA, with Arizona State's Lane Hartwell in 2nd and Michigan State's Rob Kowalczyk in 4th.
Day 2's games are going to be tough and will be deciding where teams land on the single elimination brackets, it's bound to be exciting!
Stay tuned to www.ncrha.org for live scoring and NCRHA TV for live broadcasts!
NCRHA TV is available on most Smart TVs and mobile devices, as well as via browser at www.NCRHA.TV.