2022 All-Tournament Teams Announced!
Most Valuable Player, Most Valuable Goaltender, and Playmaker chosen for each division!
April 27th, 2022 at 9:42PM
April 28th, 2022 7:12PM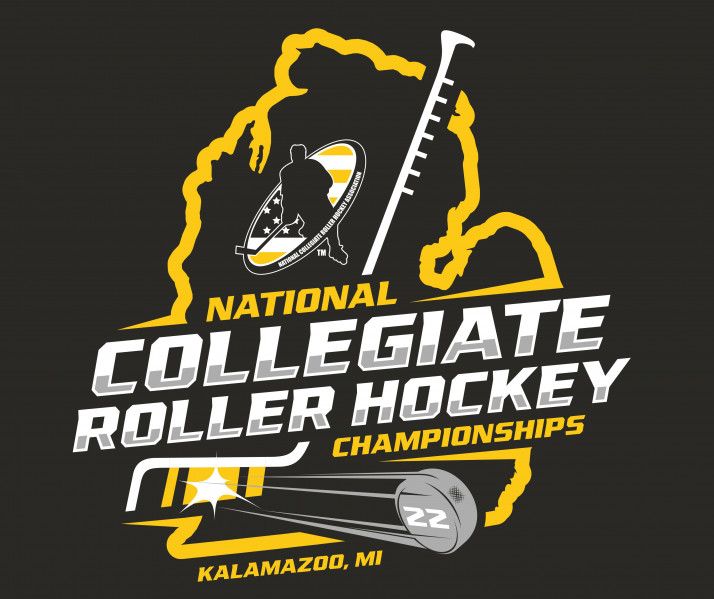 ---
Congratulations to all the teams and student athletes who participated at the 2022 National Collegiate Roller Hockey Championships in Kalamazoo, Michigan. The NCRHA would like to further recognize the following players, who have earned the honor of being selected for the 2022 All-Tournament Team. Congratulations to all!
DIVISION I
1st Team:
Nicholas DellaMorte - Lindenwood University
Ian Edwards - Slippery Rock University
Joseph Fordyce - Lindenwood University
Christian Acosta - Lindenwood University
Jacob Robinson - Lindenwood University
2nd Team:
Jason Santoriello - Bethel University
Josh Hirst - Slippery Rock University
Chase Steele - Arizona State University
Ryan Ro - Bethel University
Logan Johnson - Slippery Rock University
Most Valuable Player: Nicholas DellaMorte - Lindenwood University
Most Valuable Goaltender: Jacob Robinson - Lindenwood University
Playmaker: Ian Edwards - Slippery Rock University
DIVISION II
1st Team:
Grant Burkhard - Michigan State University
Thomas Keith - Northeastern University
Ben Goguen - Michigan State University
Troy Yano - CSU Fullerton
Rob Kowalczyk - Michigan State University
2nd Team:
Jason Stitt - Northeastern University
Roman Kraemer - Robert Morris University
Andrew Deeter - Michigan State University
Sean Hart - Stony Brook University
Dylan Sapienza - Northeastern University
Most Valuable Player: Thomas Keith - Northeastern University
Most Valuable Goaltender: Rob Kowalczyk - Michigan State University
Playmaker: Grant Burkhard - Michigan State University
DIVISION III
1st Team:
Michael Luzopone - SUNY Cortland
Michael Miano - SUNY Cortland
Michael Rovinsky - SUNY Cortland
Robert Strianese - The Ohio State University
Louie Garcia - The Ohio State University
2nd Team:
Bradley Ryniawec - The Ohio State University
Lukas Miller - The Ohio State University
Hudson Fox - University of Arizona
Demitri Samarkos - University of Tampa
Anthony Ferrari - SUNY Cortland
Most Valuable Player: Robert Strianese - The Ohio State University
Most Valuable Goaltender: Louie Garcia - The Ohio State University
Playmaker: Michael Miano - SUNY Cortland
JUNIOR COLLEGE DIVISION
1st Team:
Dylan Pattenaude - Henry Ford College
Sebastien Paquet - West Valley College
Devin Stroia - Henry Ford College
Nicholas Mangiapane - Henry Ford College
Carter Pattenaude - Henry Ford College
2nd Team:
Spencer Morrison - Henry Ford College
Chad Payne - West Valley College
Christopher Greco - Henry Ford College
Joshua Viller - West Valley College
Caleb Cueba - West Valley College
Most Valuable Player: Dylan Pattenaude - Henry Ford College
Most Valuable Goaltender: Carter Pattenaude - Henry Ford College
Playmaker: Devin Stroia - Henry Ford College
DIVISION IV
1st Team:
Aydin Schwetz - Lindenwood University
Brett Worster - Lindenwood University
Connor Bradley - Lindenwood University
Cameron Rodriguez - Lindenwood University
Chase Christopher - Lindenwood University
2nd Team:
Elliott Mercer - Michigan State University
Bennett Blake - Lindenwood University
Patrick Mahoney - Lindenwood University
Ian Daw - Slippery Rock University
Benjamin Lydon - Slippery Rock University
Most Valuable Player: Connor Bradley - Lindenwood University
Most Valuable Goaltender: Chase Christopher - Lindenwood University
Playmaker: Brett Worster - Lindenwood University
Division I Honorable Mention:
Nicholas Berger - Lindenwood University
Ethan Chipping - Bethel University
Nathan Durrans - Lindenwood University
Trevor Haertl - Bethel University
Brycon Haney-Johnson - Lindenwood University
Lane Hartwell - Arizona State University
Brandon Kerst - Lindenwood University
Hayden Knight - Arizona State University
Christopher Mahaffey - Bethel University
Mason Parker - Arizona State University
Paxton Parker - Arizona State University
Jacob Roman - Slippery Rock University
Paul Town - Lindenwood University
Kyle Wedbush - Bethel University
Parker Winkelmann - Lindenwood University
Dylan Zelonka - Slippery Rock University
Division II Honorable Mention:
Anthony Cicchetti - Stony Brook University
Jack Conlon - Cal Poly San Luis Obispo
Cameron Galin - Michigan State University
Owen Gallagher - University of Massachusetts
Stephen Galvin - Stony Brook University
Nathan Katzaroff - Cal Poly San Luis Obispo
Scot Lawson - Stony Brook University
Derek Le - Cal Poly San Luis Obispo
Jared Nelson - CSU Fullerton
Giovanni Palombo - Robert Morris University
Vince Passante - Robert Morris University
Ruslan Patterson - CSU Fullerton
Peter Rydzynski - Northeastern University
Drew Skotarczak - Northeastern University
Shane Stoitsiadis - Michigan State University
Division III Honorable Mention:
Ashlyn Aiello - Boston University
Kevin Bird - University of Arizona
Tauben Brenner - Florida State University
Dominic Calandra - University of North Texas
Colby Ciffolillo - Endicott College
Jake Cook - The Ohio State University
Caeden Dillman - Endicott College
Eric Eaton - University of North Texas
Nicholas Grillo - Temple University
Matthew Hauptmann - Florida State University
Tomas Hornicek - Boston University
Kyle Jermyn - SUNY Cortland
Sean Kavanagh - SUNY Cortland
Jordan Mansini - Florida State University
Jordan Perez - Endicott College
Brandon Ralston - Temple University
Jason Reiger - University of Colorado
Jacob Rose - Boston University
Jack Sapra - University of Arizona
Mark Sousa - Endicott College
Justin Stergos - Endicott College
Ethan Taylor - Florida State University
Ethan Zorbas - University of Arizona
Junior College Division Honorable Mention:
Lucas Hill - Henry Ford College
David Swanson - West Valley College
Justin Ta - West Valley College
Austin Trenner - West Valley College
Division IV Honorable Mention:
Declan Cronin - University of Massachusetts
Dillon Dale - Lindenwood University
Clayton Davis - Lindenwood University
Anthony DeAngelis - Slippery Rock University
Nick Ettelbrick - Lindenwood University
Theo Hannah - University of Arizona
Andrew Heuwagen - Michigan State University
Nick Hultz - Slippery Rock University
Rene LeBlanc - University of Arizona
Clayton Liefeld - Lindenwood University
Sean Maude - Lindenwood University
Price McDonald - Slippery Rock University
Bryce Pierce - Lindenwood University
Colton Ristow - Michigan State University
Grady Sherwood - University of Arizona
Nils Thegerstrom - Lindenwood University