Day 1 In The Books
MCRHL
January 27th, 2019 at 7:59AM
January 27th, 2019 2:01PM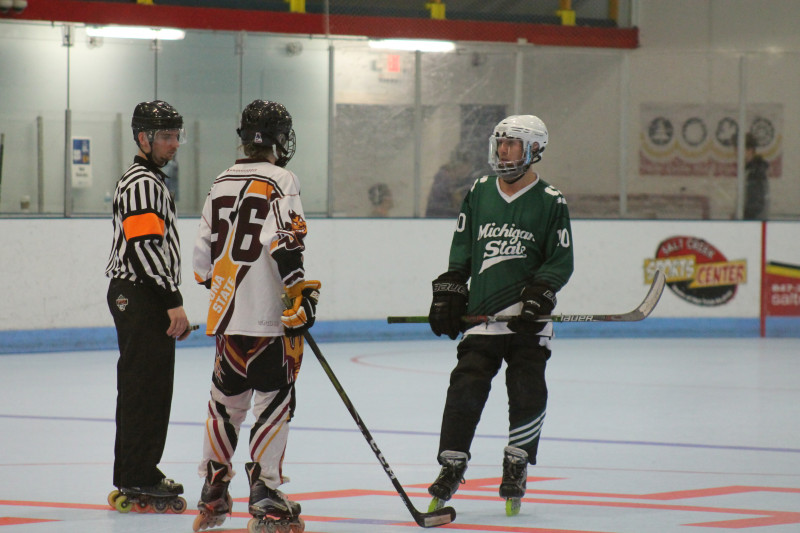 ---
Action started quick in the morning half of the Inter-Regional, and the latter half of the day didn't disappoint, by keeping up the pace. Division 4 saw Lindenwood take on Michigan State in a heated and close matchup. The first period saw no score as both teams played a back and forth period, but it was Lindenwood who would finally put one on the board as Matthew Galloni netter a short-handed goal. There wouldn't be any more scoring for a while until Cameron Galin tied the game with roughly three minutes left. The game wouldn't be decided in regulation, but it would be a power play goal by Noah Laino that would give the Spartans a comeback victory, 2-1.

Slippery Rock and Florida Gulf Coast were up next in a return to Division 1 action. Things started as a high scoring affair, seeing Slippery Rock exit the first up 3-2 with a lead they wouldn't relinquish for long, taking the win with a final score of 7-4 on the heels of a three-goal third period.

In the 3 pm D1 game, Lindenwood got out to a 3-0 lead that wouldn't be relinquished against Arizona State. That was followed by another D1 game that saw Michigan State down 5-0 and mount a comeback that ultimately went unfulfilled, losing to Bethel 7-4.

In our second overtime game of the day, Grand Valley State and Western Michigan played a tight, back-and-forth affair. Grand Valley opened the scoring, and the teams would exchange goals all game, with Josh Grady breaking the cycle in overtime on a pass from Nic Demchuk that would put the game away for Western Michigan just over a minute into the overtime period.

Following up that was another back and forth, with our highest scoring game of the weekend with DePaul getting a 12-10 win in the 6 pm D3 game.

In the return to D4 action, Bethel took on Michigan State in a game that saw Bethel get out to a 2-0 lead by the end of the 1st, and it was a lead they wouldn't relinquish, taking home the victory 5-1. That was followed by another lopsided victory, with Lindenwood Gold beating Florida Gulf Coast 10-2 in another D4 game.

Rounding out the evening was a trio of Division 1 matchups. Rob Kowalczyk would net the second shutout of the Inter-Regional en route to a hard fought 2-0 victory over Arizona State. Bethel's Jimmy Teed followed that up as they took down Slippery Rock 10-0. Closing out the evening, Lindenwood took home an 11-2 victory over Florida Gulf Coast.

Please stay tuned as we open up the second day of action!