MCRHL Player Spotlight
Miami University - Ethan Clearfield
MCRHL
July 5th, 2018 at 2:00PM
July 5th, 2018 6:34PM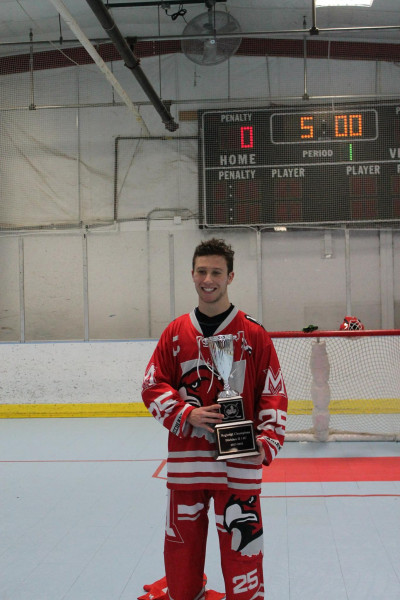 ---
Name: Ethan Clearfield
School: Miami University
Class: Senior
Major: American Studies & Arts Management
Hometown: Richboro, PA
Youth Roller Hockey Team: Feasterville Fury & Fox Chase Renegades
Favorite College Roller Hockey Moment: Winning the DII MCRHL Regional Championship
Interesting Fact: Growing up I only played roller hockey. I picked up my first hockey stick at 9 months old and began playing roller hockey at age three. In fact, it wasn't until my first semester of college that I played a game of ice hockey.
Hockey Superstition: I'm always superstitious about the uniforms, if I know we've beaten a team before wearing a specific jersey I'll definitely try to coax the league manager into letting us wear those again. As for warmups I also need to make sure I have put a puck topshelf on both my forehand and backhand, otherwise I know I'm likely in for a long day.
PreGame Ritual: I typically try to stay loose, I'll get a good stretch in, listen to music or "Why Do We Fall" a youtube video that has all the best speeches from coaches in sports movies.
Would You Rather…….Dangle or Snipe: Dangle
Favorite NHL Team: Philadelphia Flyers
Favorite Meal: My favorite food is definitely a bagel with cream cheese, as for meals I'd take a bowl of gnocchi with a side salad any day.
Favorite Song: "Come With Me Now" by KONGOS
Favorite Movie: Now You See Me
Interesting Fact About a Teammate: My teammate Seth who will also be a Senior is the only player to play all four years with the team, together he and I worked to save our program as heading into last year we had 11 out of 13 players graduate, quit or leave the university. Seth is my VP and Assistant Captain and does a ton for this team but doesn't get enough credit. I couldn't ask for a better teammate and friend.
What Make College Roller Hockey Great: I absolutely love playing college roller hockey. There is nothing better than representing your university, playing alongside your teammates and friends, getting a chance to play against universities from around the country, all the while playing extremely competitive hockey...and for anyone that doesn't know me I'm a big fan of the uniforms.