Regional Final - Mid Day Recap
MCRHL
March 4th, 2017 at 2:38PM
March 5th, 2017 1:59PM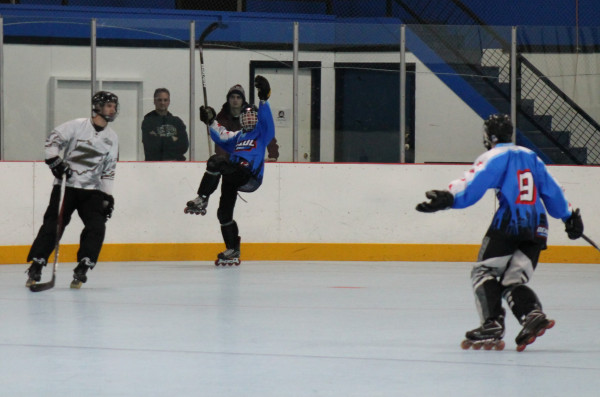 ---
With another season comes another MCRHL Regional Championship weekend. The weekend always sees teams realize their potential and live up to expectations, while others come out and surprise everyone with a win no one saw coming. Things got going at nine this morning and have been non-stop, hard-fought battles.
The opening game of the weekend was a Division 1 matchup pitting 4th seed Eastern Michigan up against 5th Seed Western Michigan. Being down four key players, Western Michigan was fighting an uphill battle from the first puck drop. Eastern Michigan got out to a quick start less than two minutes into the game, then seeing Hunter Ledgerwood score two more at the 7 minute mark to put the game at a notable disadvantage for the Broncos. With just over a minute left in the first, Western would put up one more, but it just wouldn't be enough as Eastern Michigan scored four more on the way to a 7-1 win.
Next up was the first of a best of three series in Division 3, seeing Grand Valley State and Michigan square off. In what would be a very hard-fought affair, the first two periods only saw one early goal scored by Anthony Moran a minute and a half into the affair. The third period though, saw a tremendous change of pace as both teams put forth their best effort to end the game in regulation. Despite Michigan State extending the lead to two, Grand Valley State would net two within two minutes of the second goal and send the game to overtime. After nothing was decided in the first OT, it was Joey Hockin that would be the deciding factor, scoring just over a minute and a half into the second OT to finalize Michigan State's win.
Next up in Division 1 action, Miami (OH) took on Grand Valley State. In a somewhat surprisingly one-sided affair, Grand Valley State out-shot Miami more than 2-to-1 en route to an 8-0 victory to send them to face the winner of the noon game between Michigan State and Eastern Michigan. This sent Miami to the 6pm game.
The noon game was the next game on the slate, seeing Michigan State take on Eastern Michigan in Division 1 action. Despite Eastern Michigan netting three goals over the course of the game, it wouldn't be enough as Michigan State got out to a quick 2-0 lead and never looked back, winning the game 16-3. This would set up a 6pm matchup between Michigan State and Grand Valley State, and a 3 pm rematch between Western Michigan and Eastern Michigan.
The game at 1 pm would see the first Division 2 action of the weekend, pitting rivals Michigan and Ohio State head to head. Ohio State put up a tough fight, but were never able to light the lamp, and saw Michigan go on to a 4-0 win. Michigan will play next at 7 pm, while Ohio State will get their chance at redemption at 8 pm.
DePaul pulled off the first upset of the weekend as they defeated 5-3. Despite a scoreless first period both team came out flying. Early in the second DePaul's Danielski scored on the power play to take the 1-0 lead. However, it was Akron that built momentum and started to take over the game. Akron quickly answered on a power play tally of their own from Chris Johnston. Akron's Mike Smith and Joey Nahay both scored in the period to take a 3-1 lead into the 3rd. The third period was all Blue Demons. Danielski scored early in the period and Andrew Harris scored again to tie the game 3-3 with 4:30 to play. Duncan Coogan took a tripping penalty late in the game to put Akron on the PP. They could never really get set and gave up 2 shorthanded goals. They could never recover and Danielski's short handed Hat Trick tally was the game winner