Weekend 2 Recap
MCRHL
November 11th, 2016 at 10:26AM
November 11th, 2016 4:31PM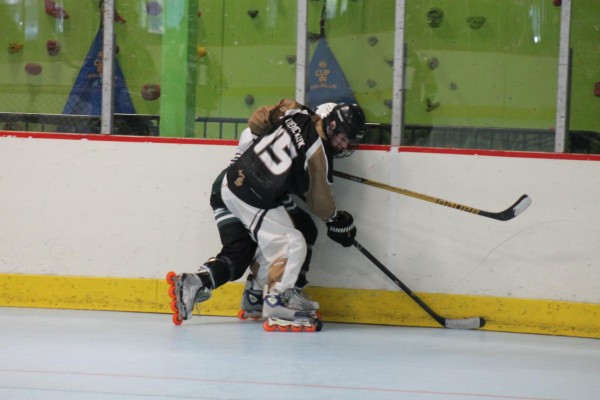 ---
Weekend 2 Recap
The second weekend of MCRHL action has concluded, and what a great weekend it was. The return of the MCRHL to Sports Plus in Cincinnati, Ohio could not have gone better. The facility was organized, the dressing rooms were clean, the floor was top quality, and the atmosphere was exciting. As always, a big "thank you" to the management at Sports Plus and Jeff Nolan for their work all weekend to make this a fantastic event for players and spectators.
Miami, Eastern Michigan, Michigan State, and Western Michigan were all present from the DI division and played a mixed schedule of DI and DIII opponents. Akron, DePaul, Michigan, Northern Illinois, and Ohio State represented the DII division and Michigan State's second team was the only participant from DIII.
Division I
Miami finished last weekend with a 2-1 record. They started the tournament with a 5-2 loss to Michigan State, but bounced back with a 7-1 win against Michigan State DIII and a close 4-3 victory over Western Michigan. Through two tournaments, Andrew Augustine leads Miami with 13 points (5G, 8A) followed by Dakota Cook with 8 points (2G, 6A).
Michigan State continued their strong start to the season with a 3-0 record on the weekend. The Spartans downed Miami 5-2, Eastern Michigan 12-5, and rounded it off with a dominant 11-1 victory over Western Michigan. It has been a total team effort to start the year, with four players reaching 20 points through seven games.
Eastern Michigan had an even weekend, finishing with a record of 2-2. They started with a surprising defeat to Michigan State DIII 9-6 and were beaten in the next game by the DI team 12-5. After regrouping, however, they turned in two consecutive solid performances. They defeated Western Michigan 11-9 and won their second games against State DIII 8-5.
Western Michigan didn't have their best weekend, but the 0-4 record is deceiving of how they actually played. They began with a 3-2 defeat to Michigan State DIII and fell to Eastern Michigan 11-9 later that night. Things didn't go so well against Michigan State as the Spartans routed the Broncos 11-1. They ended the weekend falling 4-3 to Miami in a tightly contested game that could've easily gone either way.
Division II
Akron put together a very strong showing in their first regular season action of the year. They finished 3-0, beating Michigan 6-3, Ohio State 5-0, and Northern Illinois 9-1. Considering preseason and exhibition games this season, Akron's record now sits a 8-1 with their only loss coming in preseason to Grand Valley DI. The Zips will hope to continue their strong play in Homer Glen in two weekends.
DePaul University also kicked off their regular season at Sports Plus last weekend. The Blue Devils lost their first game to Ohio State 7-5, but roared back with a 6-3 win against Michigan and a 5-1 victory over Northern Illinois.
Michigan weren't firing on all cylinders last weekend and it showed. They fell 6-3 to both Akron and DePaul, as well as losing 6-5 in OT to against rivals Ohio State. The Wolverines are working to improve their team after being moved from DI to DII last season and they are definitely making progress as the season wears on.
Northern Illinois also struggled to find the back of the net in their first regular season MCRHL action, finishing the weekend 0-2-1. The Huskies started out strong, falling 6-5 in OT to Ohio State in a game that truly could have gone either way. Despite the positive first game, they never got on track and lost 9-1 to Akron and 5-1 to DePaul. They'll have ample opportunity to rebound with four games scheduled in their next tournament.
Ohio State had the second most successful weekend of the DII competition. They finished the weekend 3-1, pulling out three wins in tightly contested games. Their only loss of the weekend came when they took on Akron Saturday night, where they fell 5-0. The Buckeyes were strong other than that, beating DePaul 7-5 and winning two games against Michigan and Northern Illinois in OT.
Division III
Michigan State DIII proved to the entire MCRHL this weekend that they are not to be taken lightly at all. The Spartans played four games, all against DI opposition, and finished the weekend at Sports Plus 2-2. They rattled off consecutive wins against Eastern Michigan 9-6 and Western Michigan 3-2 to open. They fell behind early to Miami, but finished the first period down by a single goal and proceeded to tie the game at the beginning of the second period. Eventually, Miami prevailed 7-1 behind a flurry of second and third period goals. In their final game, MSU went for the weekend sweep of Eastern Michigan but were unable to accomplish it, losing 8-5 in a very entertaining game. The depth of the Michigan State roller hockey program is what all teams in the MCRHL strive for, and the benefits of it were on full display this weekend.
All in all, it was a very successful, efficient weekend at Sports Plus. As a Miami student, I can say that it was invigorating to be playing in our home environment with fans able to support us. Thank you to all of the players, coaches, and referees who continue to put in the time and effort to make these MCRHL tournaments respectful, safe, and enjoyable. We are all hopeful that this partnership with Sports Plus will endure in seasons to come. The MCRHL takes a weekend off, but is back at it the weekend of November 19-20 in Homer Glen, Illinois. As always, stay tuned to mcrhl.com for news, recap, live streams, scores and statistics.
Written by: Dakota Cook