MCRHL Player of the Week
Oct 22-23
MCRHL
October 27th, 2016 at 12:09AM
November 1st, 2016 7:54PM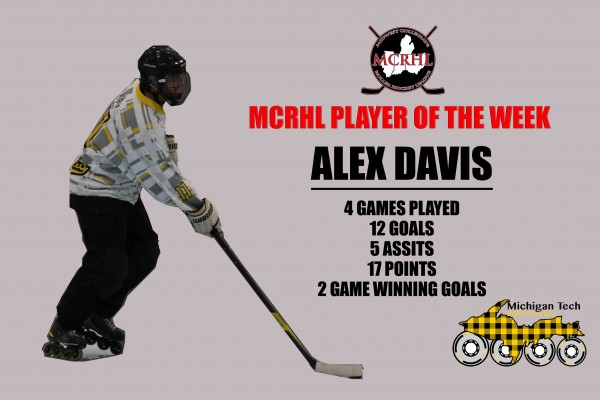 ---
Alex Davis
Michigan Tech Huskies
MCRHL Player Of The Week
October 22-23
Inline Hockey Center
Alex started the weekend against the University of Michigan and wasted no time finding the scoresheet. After firing away a Hat Trick in the first period, he added 3 more including 2 late goals to seal the game. The Huskies went on to win 6-2 and Alex accounted for all their scoring.
Davis filled the scoresheet again against Western Michigan D3 with 4 goals and 2 assists on the way to 8-0 win. He was quieted a bit by the Ohio State Buckeyes in their final game on Saturday. Finishing with 1 goal and 1 assist, the Huskies lost 5-7.
Looking to rebound from the loss, Davis capped off his huge weekend with an overtime game winning goal against Grand Valley State D3.
Stat line for the weekend:
4 Games Played
12 Goals
5 Assists
17 points
2 Game winning goals