Weekend 1 Recap
MCRHL
October 25th, 2016 at 2:49PM
October 26th, 2016 7:42PM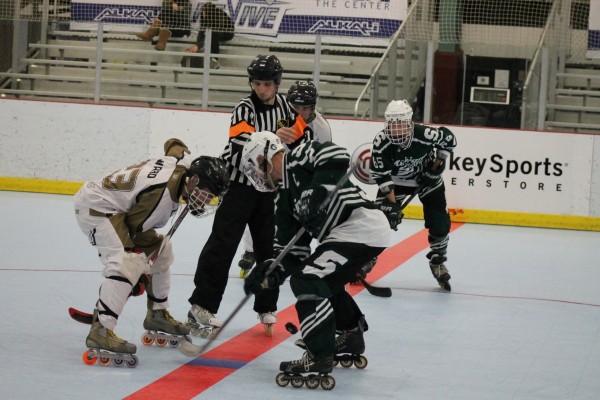 ---
MCRHL Weekend 1 Recap
With weekend 1 of the MCRHL regular season in the books, we take a look back at how teams got on in their first tournament of the year. First and foremost, a big thank you to Inline Hockey Center at the JCC for hosting a great weekend, as they always do.
Division 1
Michigan State picked up right where they left off, going 4-0 on the weekend. They downed Grand Valley 8-2, Miami 8-1, Western Michigan 8-2, and Eastern Michigan 12-4. Mac Burkhard led the team with 14 points and Ryan Moran was close behind logging 13. State is one of the best teams in the country and it wouldn't be surprising to see them challenging for a national championship this year.
Grand Valley State got off to a good start as well, going 3-1. They beat Eastern Michigan 12-1, Miami 5-0, and Western Michigan 8-0, with their only loss of the weekend coming to Michigan State. Dominic Zuelch has 7 goals and 3 assists to lead the team with 10 points.
Eastern Michigan started the season going 2-2, showing a lot of improvement from last year. The beat Miami 8-7 in OT, and Western Michigan 10-9. Their losses came to Grand Valley State 12-1, and Michigan State 12-4. Hunter Ledgerwood led the team and the entire MCRHL with an unbelievable 21 points (13 goals, 8 assists) through four games.
Miami of Ohio struggled to put together a complete game, finishing the weekend at a disappointing 1-2-1. Their only win of the weekend came against Western Michigan 8-5, and they fell to Eastern Michigan 8-7, Michigan State 8-1, and Grand Valley State 5-0. New defenseman Andrew Augustine led the team with one goal and six assists. Miami should be deeper than in previous years, and will look to show improvement in their upcoming tournament in Cincinnati.
Division I newcomers Western Michigan started out the season 0-4, but they showed promise and improvement from previous years. They've got a lot more skill than previous years and will continue to get better and better as the season goes on.
Division II
Michigan Tech began the season with 3 wins and a loss, playing a split schedule against D2 and D3 opponents. They defeated Michigan 6-2 and lost to Ohio State 5-7 in their D2 competition. They won both of their D3 competitions, beating Western Michigan D3 8-0 and pulling out a close victory over Grand Valley State D3 in overtime.
Ohio State started off with a tough loss to Grand Valley State D3 1-4, but battled back to win their next two games 7-5 vs. Michigan Tech and 8-7 vs. Western Michigan's D3 team. They will hope to contend for the D2 championship with Michigan Tech.
The Michigan Wolverines began their first full season in D2 competition. They lost to Michigan Tech 2-6 in their first game of the weekend and fell to Grand Valley State D3 3-7. They bounced back with a convincing victory over Western Michigan 10-3 and will hope to carry that momentum into their next round of games.
Division III
Grand Valley State D3 began their season with three games against D2 competition. They won their first two games convincingly, beating Ohio State 4-1 and Michigan 7-3. Their only loss of the weekend came in overtime to Michigan Tech 4-5. There is a lot of talent on this team and they will be difficult to beat regardless of if they are competing in D2 of D3.
Western Michigan D3 started the season roughly, finishing 0-2-1 on the weekend with all of those games coming against D2 competition. They started off losing to Ohio State 0-8, and followed that up with a loss to Michigan 3-10. They earned a hard fought point in their last game to Ohio State, falling overtime 7-8 after leading going into the third period.
The next action comes in two weeks, as the MCRHL makes its return to Cincinnati for the first time in a couple of years. Stay tuned for information, lead-up, and a recap of all the events this coming season.