MCRHL Inter Regional provides a unique opportunity for the Bolyard family
MCRHL
April 2nd, 2016 at 2:20PM
April 2nd, 2016 7:30PM
---
For seven straight seasons now, the MCRHL Inter-Regional has provided the college roller hockey world with some great matchups. Teams from the ECRHA, GPCIHL, SCHL have all traveled in to play some of the MCRHL's best. This year's slate featured games pitting Bethel University, Lindenwood University and UMSL from the Great Plains conference against Grand Valley State, Miami (OH) and Michigan State from the MCRHL. However, this weekend provided much more than great hockey for one family in particular. It's a chance for Les and Laura Bolyard to watch their sons Jake and Tyler face off against each other.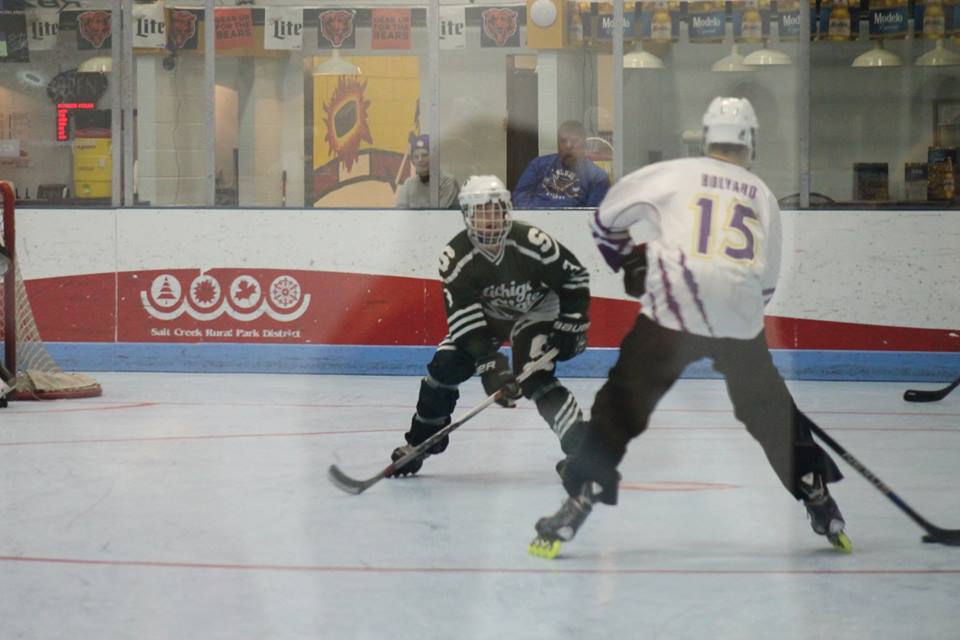 To say that the Bolyards take every chance they can get to watch their sons play would be an understatement. This season they made the 8 hour trip from Howell, MI to St Louis, MO for every one of Tyler's games. Tyler, a Junior at Bethel University, is a key component to Bethel's roster and finished their season as the team's leading scorer. The Bolyards were also regulars at MCRHL weekends where their younger son Jake, is a Senior at Michigan State. Being able to watch both their sons in one rink is an opportunity that they would not miss.
"The Chicago weekend is something we really look forward to each year,' said Laura. "It's nice to spend time with both boys and it gives them the opportunity to watch each other play again and cheer on their brother."
Tyler recalled their younger years playing together fondly.
"Some favorite moments I have is from playing at Rollerama, the local roller hockey rink from our town because [Jake and I] would play together, and those are great memories. Also, my dad coached us all those years. So it was a fun thing for the family to do because my mom loves hockey and comes to every game, and my dad was a good coach."
Leading into game time, Jake and Tyler posed for a picture together, but of course that cheering all changes when they face each other.
"It's a lot of fun playing against my older brother and I get pretty excited for the game because I want to prove that even though he is older doesn't mean he is better," said Jake.
"They both really want to win to have bragging rights," said Laura.
As the puck dropped, Les and Laura found themselves a table at the corner of the rink. Determined to remain impartial, they sat back to enjoy the game instead of cheer.
"Last year our strategy was to clap for whichever team scored a goal,' recalled Laura. "But then one son scored and the other son saw me cheering and I felt bad."
Michigan State opened up the scoring less than 3 minutes into the game as Eric Purcell took a feed from Colin Cyr and buried it. Immediately after, Tyler started putting his team on his back. Bethel answered 35 seconds later with a goal from Andrew Ball and the lone assist going to Tyler. Tyler added another assist and scored a goal of his own with the remaining time of the first period. Bethel took a 3-1 lead heading into the second period where Michigan State pulled within 1 as Jake found his way onto the scoresheet with an assist on Connor Kenrick's power play goal.
As Michigan State pushed the pace in the third period, Bethel relied on netminder Blake Lochhead to weather the storm. As Lochhead turned away 14 shots in the period, Tyler Bolyard added his second goal and fourth point of the game. Tyler walked away with the First Star of the game, but more importantly, bragging rights as Bethel upset Michagan State 4-2.
"I will have to hear about losing now for the rest of the year,' lamented Jake when asked shortly after the game, "but hopefully if we see them at nationals, we will come out on top."
The NCRHA National Collegiate Roller Hockey Championships kick off next week in Cedar Springs, Iowa. We know there is one player hoping for a chance at redemption. See you at the rink!